Welcome to Catahoula Artisan's Gallery & Gift Shop, Leakey, Texas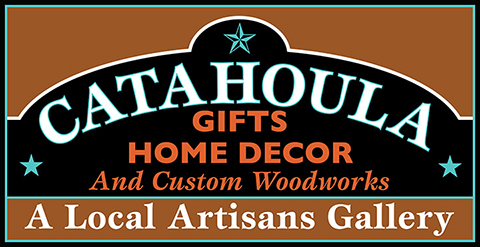 Catahoula Artisan's Gallery & Gift Shop specializes in unique handcrafted items. Lifelong residents of Texas, Jimmie & Debbie take pride in every piece they create and hand pick only artisans who also take pride in high quality work. With over 30 artisans from all over the state of Texas and beyond, we carry a wide variety of pieces, each being unique. Whether it's fine furniture, mesquite cutting boards, turned bowls with turquoise inlay, hand made glycerin soaps, bottle stoppers, pottery, jewelry or the many other handcrafted items, careful attention is paid to every detail of every piece.
We also build custom cabinets, furniture and gifts to your specifications in any style and wood you desire. All materials are of the finest quality available -- absolutely no MDF, particle board, or vinyl veneer. Every piece is custom built one at a time to fit your exact needs.
Come visit our gallery & gift shop in Leakey, Texas, located at 105 RR 337 @ Hwy 83. Open Year Round Tuesday thru Saturday. There you can see our complete line of artisan wares. If you have a custom piece you'd like built, give us a call. (830) 232-5833
Don't settle for less when you can have high-quality custom woodworking exactly the way you want for a competitive price.
Contact Jimmie at thewoodworkingguy-1489@yahoo.com for an estimate.